Charts
Our charts can be printed in color or black and white. We also have them available in laminated form, which makes them long lasting and water resistant. You may use them as handouts or affix them to walls so they can be seen by the general public. These charts are intended to be used by schools, fire/police departments, the department of motor vehicles (DMV), community centers, hospitals, rehabilitation centers, sports venues, and households.
Description
We have 3 charts: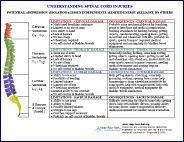 BREAK YOUR BACK?
This chart describes the spinal nerves, spinal cord functions, and distinguishes between paraplegia and quadriplegia.
TRAUMATIC BRAIN INJURY (TBI)
This chart describes how a TBI occurs, the consequences of TBIs, how to prevent a TBI, and testimonials of injured individuals.
UNDERSTANDING SPINAL CORD INJURIES
This chart maps the spinal column and states the consequences of spinal cord injuries. The chart describes the various limitations that individuals with spinal cord injuries might have according to the type of spinal cord damage.
Download and Print Charts
You may print and distribute our charts at your convenience, or you can order directly from us. If you choose to print them yourself, we would appreciate a donation. Your contribution helps us make these charts available to schools, non-profit organizations, and individuals who otherwise could not afford them. On our Donations page you have an option of making a contribution for these charts under our HYS Injury Prevention Program or you may choose to support any of our other programs.
Our charts are available in PDF format. You will need Acrobat Reader to view and print the files. If you need a free download of Acrobat Reader click here.
To download our charts we request that you register your name with us first. To register and download click here: download charts.
Order Charts by Mail
You may order our charts in various formats. Please indicate which charts you would like, and the desired amount.
Black and white not laminated $0.50 each
Color not laminated $1.50
Color laminated $4.50