Charts and Injury Prevention Literature
The first step to prevent injuries is to understand the causes and consequences. The next step is to take the necessary actions to try to avoid hurting oneself and others. To enhance our Prevention of Injuries Classes, we developed and produced educational charts that aid in reducing accident-related spinal cord injuries (SCIs), traumatic brain injuries (TBIs) and deaths.
TBIs and SCIs are often consequences of vehicle collisions, sports injuries, domestic hostility, falls, and gun violence. These afflictions are a serious public health threat with an emotional cost too high to measure and a dramatically increasing economic cost. Approximately 2% of the U.S. population lives with a TBI, and 1.4 million Americans sustain a TBI each year. Between 250,000 and 400,000 people in the U.S. have an SCI, with 11,000 additional cases annually.
Statistics about TBIs
TBI is an impairment that causes depression, anxiety, isolation, physical complications, and inability to execute daily tasks.
5.3 million Americans currently live with disabilities resulting from TBIs.
Every 23 seconds, one person in the U.S. sustains a TBI.
More than 50,000 people die every year as a result of a TBI.
The total yearly national cost for TBIs is approximately $67 billion.
The life expectancy of most brain-injured persons is similar to that of the average individual. For a severe head injury the lifetime costs per individual are approximately $4.8 million.
Statistics about SCIs
An SCI is a traumatic lesion of neural elements in the spinal cord, resulting in any degree of sensory and/or motor deficit, autonomic dysfunction, and bladder/bowel dysfunction. The neurologic deficit or dysfunction can be temporary or permanent and may be incomplete or complete.
The average lifetime expectancy for individuals with SCIs who survive the first year is between the ages of 50 and 70.
The total yearly national cost for SCIs is $9.7 billion.
The average yearly cost for the care of an individual with an SCI is between $60,000 to $130,000.
Charts
The charts that Help-Your-Self has developed are unique and easy to follow educational tools for people of all ages. They explain, in basic terms, the facts about SCIs and TBIs, they describe simple ways to prevent injuries and they present personal testimonials from young adults who have been injured. These charts are intended to be used by schools, fire/police departments, the department of motor vehicles (DMV), community centers, hospitals, rehabilitation centers, sports venues, and households.
Our charts can be printed in color or black and white. We also have them available in laminated form, which makes them long lasting and water resistant. You may use them as handouts or affix them to walls so they can be seen by the general public.
There are two ways to obtain our charts: you may print and distribute our charts at your convenience, or you can order directly from us. If you choose to print them yourself, we would appreciate a donation. Your contribution helps us make these charts available to schools, non-profit organizations, and individuals who otherwise could not afford them.
We have 3 charts; for a detailed description about our charts, to download, or to purchase, click here: download or purchase charts.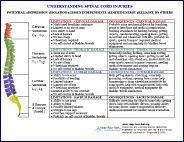 Prevention of Injuries Literature